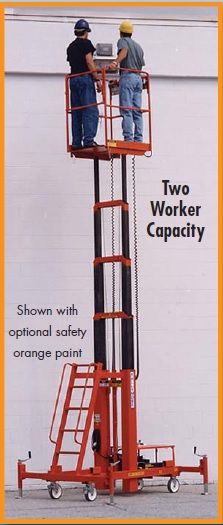 These Portable Man Lifts are heavy duty and easy to maneuver.
We have the perfect man lift for your application.  The most important factor in considering one of these units is its safety features.
Another factor to consider is the ease of accessibility.  How you operate the unit, going up and down and moving to its desired location.  You have manual as well as electrical options regarding its mobility.
Rolls around on its casters and can be stored in closets and other small areas.
Make sure the working height and the platform dimensions are what you desire for your specific needs.
Contact us for more information:
(888) 722-0311

Scissor Lifts
Power Stocker Man Lift