Our Industrial Stairways come in many different heights.  They are fabricated per order, based on your requirements, determined by the Run and Rise of the fixture.
They made of Heavy Duty Steel Construction.
Constructed of a 36 Degree Slope
Grip Strut / Serrated Treads
The Treads are 9 ½" Deep  x  36" Wide
Risers are 7 inches
The Channel Stringers are 10 inches
Handrails are 32" H
Standard Painted Gray Enamel Finish
1000 lb capacity
Meets OSHA standards: CAL OSHA is available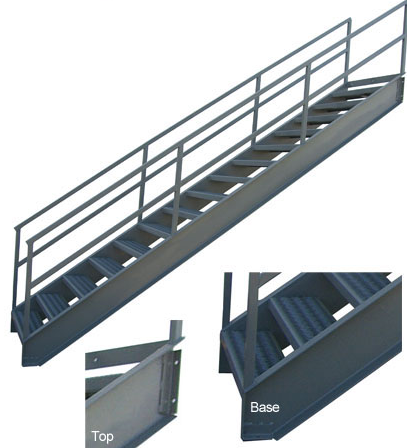 These Metal Stairs can have either a painted enamel finish of any color option, a powder coated finish or a galvanized finish.
If stairways are for commercial use, we also comply with all BOCA standards as well as IBC.  We build them to your specifications and they also meet OSHA fall protection standards.