FIXED LADDER WITH WALK THRU HANDRAILS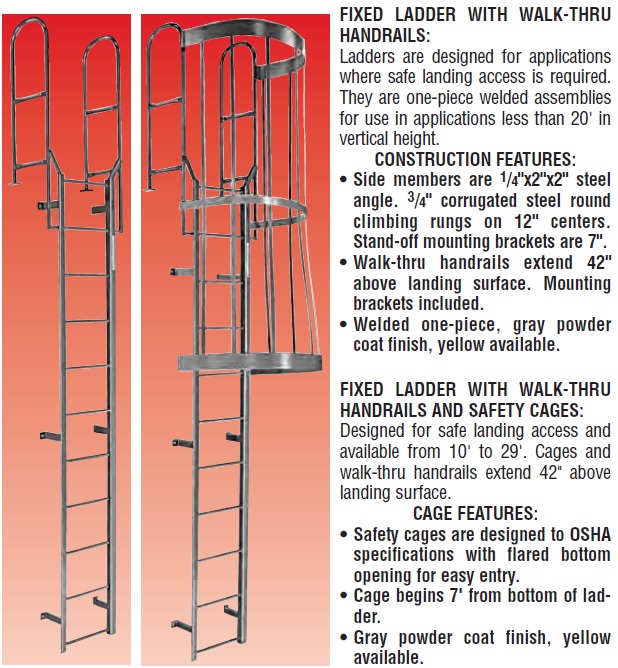 These Fixed Roof Ladders are for any type of application that requires a Vertical Ladder.  They can be manufactured with a cage or without a cage.
Cage begins 7  feet from the bottom of ladder
Handrails extend 42" above the top rung
Mounting brackets included (7″ from wall)
Designed for roof access
Rungs are 16″W (OAW is 20″)
Choice of powdercoated, painted, or galvanized
All welded steel construction or optional modular design available
300 lb capacity
Meets OSHA and ANSI standards
Standard Powder Coated Finish:
Painted and Galvanized Finish Optional
NOTE:  Per OSHA all Fixed ladders that exceed 20′ are required to have a safety cage.
FIXED LADDER WITHOUT WALK THRU HANDRAILS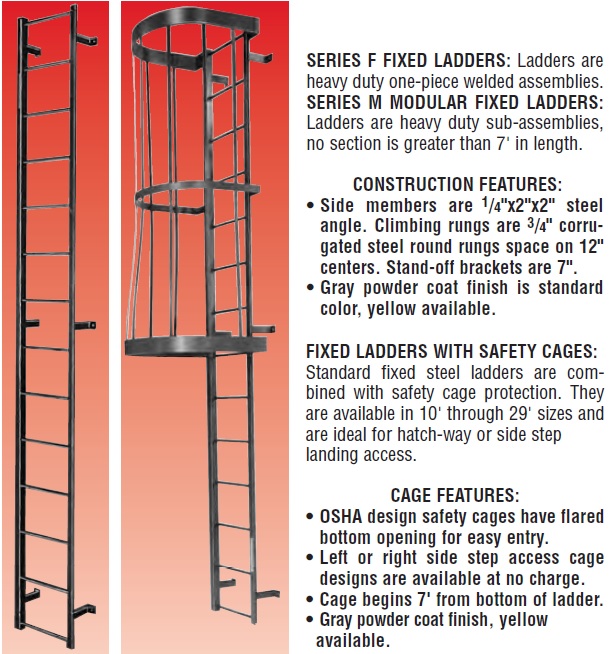 These Fixed Steel Vertical Ladders are also available in the modular design, which costs less to ship and easier to install.
All our ladders meet or exceed ANSI A14.3 and OSHA 1910.27 standards.
Cage begins 7  feet from the bottom of ladder
Handrails extend 42" above the top rung
Standoff brackets are mounted 7″ from wall
Rungs are 16″W with an OAW is 20″
300 lb capacity
Choice of powdercoated, painted, or galvanized
Cut Sheet and Drawings Available